Silentia Privacy Screens
Silentia Privacy Screens are the Leaders in Alternative to Privacy Curtains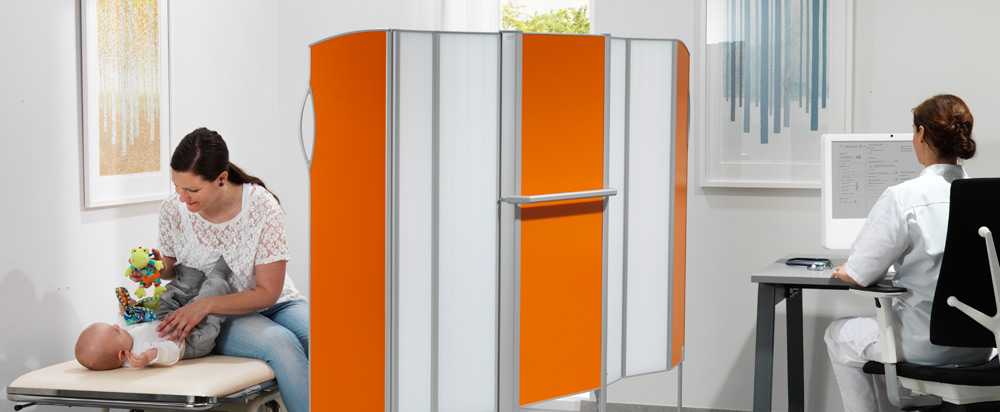 Silentia Privacy Screens are today's solution to privacy needs. Silentia Screens are a patented screening system that was developed to create a more pleasant environment for patients and staff in nursing homes, hospitals, and private clinics.
The clever folding screen is the foundation of the system and provides a simple method of screening without closing in. Some of the features of the screen include the fact that it is always on hand, lets in daylight, and is easy to keep clean. There is no need to remove it from the room as you would a standard curtain to clean and disinfect it. The screens can also be installed without getting in the way of ceiling lifts and other overhead equipment.
A more hygienic approach to curtains - studies have proven that curtains are a source of infection and can not be cleaned regularly and economically. With a hard surface material like the Silentia Screen, the surface can be wiped and immediately, eliminating the need to remove, launder, and reinstall a new set of curtains.
---
---
An intelligent design that optimizes hygiene and practicality
Our Easy Concept is the foundation upon which our patented screen system is built.
The Swedish-made system, invented by Silentia in 1990, is the leading alternative to privacy curtains for hospitals and care environments all over the world.
The Easy Concept consists of our three trademarks: EasyClean™ EasyReturn™ and EasyClick™. These key features make our wide range of products to be easily installed, cleaned, and handled- contributing to optimal hygiene and easily-achieved patient privacy. The products within the Easy Concept are offered in a wide range of heights, lengths, combinations, and colors. Our screens come in both fixed and mobile, as well as folding and frosted to meet the needs of an ever-changing environment.
---
Creating More Pleasant Environments for Patients and Staff
StoryPanels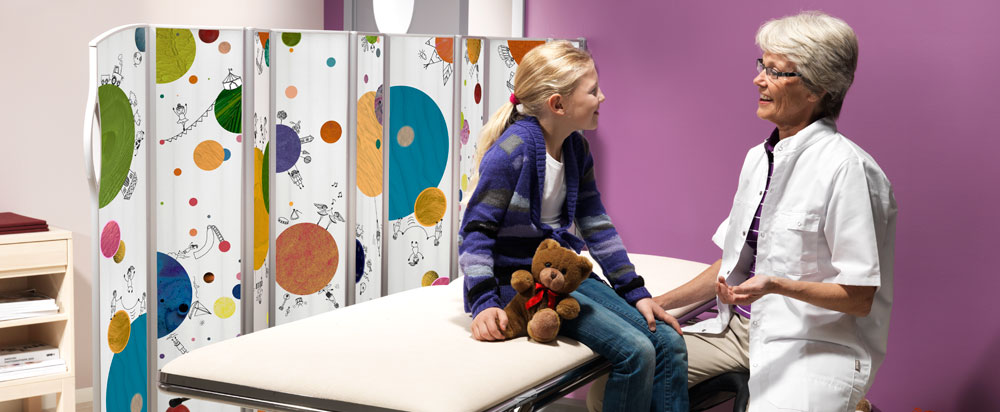 A picture is worth a thousand words and can even have a healing impact. Silentia's StoryPanels™ offers a new way to give children a playful and positive atmosphere by creating a positive distraction. A child in a hospital is far from home and among unfamiliar faces, but by engaging with artwork such as planets and characters the child immediately starts to use their fantasy and imagination. This allows them to get lost in their imagination and to take their mind off their current circumstance.
StoryPanels™ is a powerful tool for the healthcare sector to comfort children and takes Silentia's folding screens to a new level with its combination of privacy and a more positive atmosphere.

View the StoryPanels Brochure
---
ArtPanels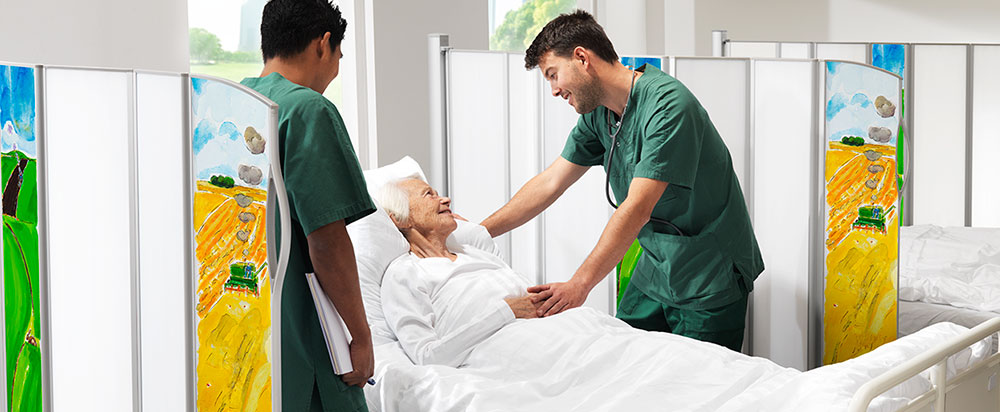 Nature provides tranquility in a complex world. Research shows that art with views of nature and animal life has a positive effect on hospital patients' recovery.
The bright colors of nature ArtPanels™ are designed to create a stress-reducing effect by letting them focus on something positive instead of their current circumstance.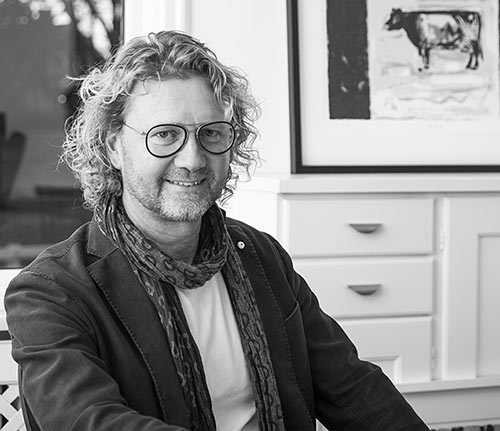 "The green soothing colors should inspire people to relax and just be in the moment. To slow down, get well, and let things take their time. People often feel calm and safe when looking at cows, surely because they are such restful and gentle animals. That's why my c capture cows and nature. It was an exciting challenge to work with the tall, narrow format. I have chosen to place the horizon at the very top so the viewer's eyes follow the lines in the landscape and upwards to the sky." - Magnus Reisne, Swedish Landscape Artist
View the ArtPanels Brochure
---
PhotoPanels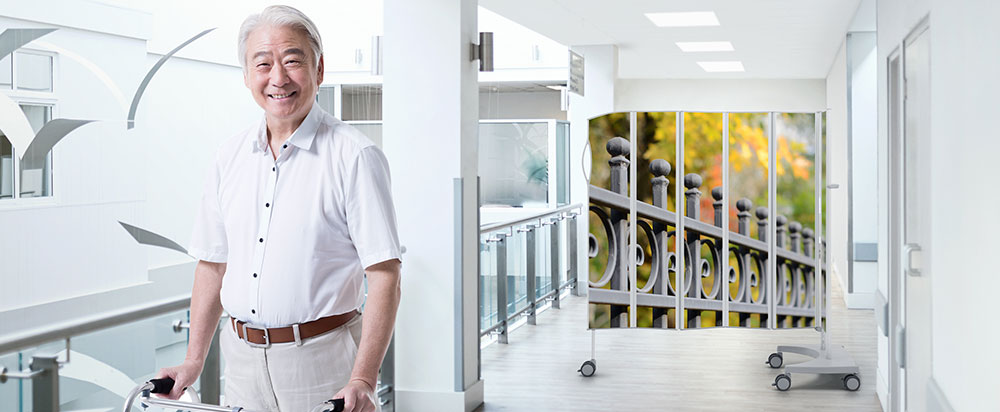 Silentia's PhotoPanels™ help create not only privacy, but also create peace of mind. Studies show that images and colors can have a positive influence by stimulating positive thoughts and can help relieve stress, pain, and anxiety. PhotoPanels™ is an ideal choice for elderly care, hospitals, and a variety of healthcare settings.
PhotoPanels™ has been developed as a professional healing tool to stimulate patients by creating peace, calm, security, and memories of recognizable places. At the same time, they offer optimal hygiene and privacy without feeling closed in.
Feel free to contact us about the many options available.
View the PhotoPanels Brochure
---
***NEW*** ClearPanels™️
ClearPanels is a completely transparent, mobile screen that makes it easy to monitor and communicate with patients. It meets the healthcare sector's strict hygiene requirements with smooth, easily accessible surfaces that withstand disinfectants used in any healthcare setting. A screen solution that is easy to clean, move and store when not in use. ClearPanels is part of Silentia's extensive screen system for various healthcare settings.
A recent Case Story from a Hospital in Denmark - PDF
View the ClearPanels Brochure